Barbara Baer's 2009 novella Grisha The Scrivener
released by Ghost Road Press. Click here for information:


Welcome to Floreant Press
Located in Forestville, Sonoma County California, Floreant Press started publishing books in 1995. Barbara L. Baer and Maureen Jennings began with a regional collection of writings by women from Marin to Mendocino entitled Cartwheels on the Faultline.
Barbara continued publishing books about everything from tea to travel, culminating in 2006 with Floreant's first international title, Pomegranate Roads by Dr. Gregory Levin.


"There was just something about Dr. Levin that I had to be part of."—Barbara Baer

Presentations and Pomegranate Tastings with Barbara Baer:
Private Pomegranate tastings and presentation of "Pomegranate Roads: A Soviet Botanist's Exile from Eden" by Barbara Baer, publisher Floreant Press. Upon request from late October through December. For more information:
barbara@floreantpress.com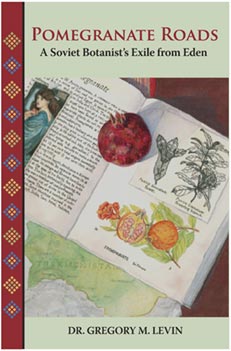 Pomegranate Roads
A Soviet Botanist's Exile from Eden
By Dr. Gregory M. Levin
For more than forty years, Dr. Gregory Levin trekked across Central Asia and the Trans-Caucasus in search of rare, endangered and mysterious wild pomegranates. His home was a remote Soviet station in the mountains that separate Turkmenistan from Iran. After the break-up of the Soviet Union, he found himself exiled from his own hidden Eden and his collection of 1,117 pomegranates. Gregory Levin has written a fascinating memoir of his life with pomegranates. He illuminates the botany, the history and myths, the astonishing range of tastes, and the health benefits - from folklore to pharmaceuticals- that make it the wonder fruit of our time. More ...
What they are saying about Pomegranate Roads:
"I came for the pomegranate botany and stayed for the human story."—David Silverstein, Calfornia Rare Fruit Growers

"A beguiling blend of memoir and horticulture, this book will enchant both pomegranate devotees and novices." —David Karp, "fruit detective"
Dr. Levin's writing never gets too scientific to be enjoyable and I would highly recommend "Pomegranate Roads" to anybody who is interested in research, history or horticulture as well as any lover of memoirs. —Olivera Baumgartner-Jackson, Reader Views
See Reviews ...